Open the door to secure real estate access with SentriLock, the official lockbox solution for the National Association of REALTORS®. We are pleased to announce that SentriLock is also the official lockbox for GSAR members AND it's a free member benefit!
Electronic Lockbox Advantages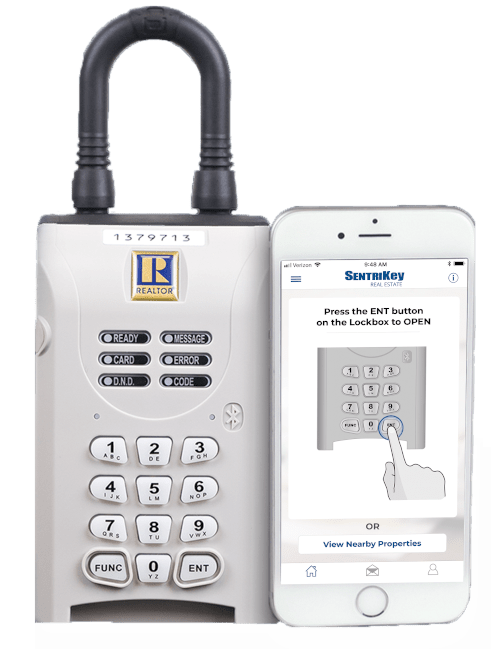 Safety isn't a priority. It's the priority. With SentriLock's proprietary hardware and technology, you will help keep your homeowners safe. Exclusive reporting features let you know who accessed a property and when. You can also provide secure keyless and temporary access. As a REALTOR®, your safety is also important. When using SentriKey®​ to open a lockbox, the Agent Safety Feature will launch. This feature will automatically alert your designated emergency contracts when you do not, or cannot, confirm you are safe.
Save time with managed access. Generate one-day codes for out-of-area agents, contractors, home inspectors and others with the mobile app. This is an easy - and secure - way to grant temporary access to your lockbox on a certain day, at a certain time and for a certain duration to non-SentriLock users. Furthermore, one-day codes are dynamic, meaning they change every day. This enhances security by providing time-limited access and allowing access for a specific date and time.
Mobile access made easy. The SentriKey™ Real Estate mobile app allows you to assign your lockbox to a listing, get and share one-day codes, release the shackle and more.
Never miss a showing. Users have access to the SentriKey™ Real Estate mobile app and one-day codes, easy-to-use tools that will ensure you never miss a showing.
REALTOR®-friendly features. Agent safety and Property Data Integration are two of several REALTOR® focused features within the SentriLock System. SentriLock lockboxes feature a jam-free front opening key compartment and an illuminated key pad.
Some of the features of the SentriLock System include:
Listing Agent can assign the lockbox to a particular listing for better tracking.
Notifications are sent to the listing agent when the lockbox has been accessed.
Greater tracking ability with access logs to see when a lockbox was accessed and by whom.
Call Before Showing (CBS) codes can be added for additional security for the homeowners that require it.
Homeowners can activate a "Do Not Disturb" mode to disable access to the lockbox temporarily.
Durability against vandalism.
SENTRILOCK LIVE SUPPORT
513-618-5800
(Available from 6 a.m. – 10 p.m. [MST] 7 Days a week)
Email: support@sentrilock.com
Canada and Toll Free: 1-877-736-8745